July 20, 2022
Metamorphosis of Insurance Process with Automation
The automation market has been growing at breakneck speed. While the banking and financial services domain embraced this trend long ago, the adoption of automation in the insurance industry has been much slower. Digital Automation in insurance has the potential to help companies transform their business, become more profitable, and better adjust to market changes. Additionally, automation bridges the gap between legacy insurance systems to improve customer experience and operational efficiency.

Benefits of Automation in the Insurance Industry
When implementing automation in processes, insurers can improve their back-office processes and customer-facing services while transforming the work environment. After all, employees shouldn't have to be stuck with mindless data entry!
Some key benefits of using Automation for insurance operations include the following:
Physically moving documents from one desk to another for the different layers of approvals often leads to misplaced documents and lengthy approval process times.
With automation, a large amount of data and documents can be moved in only a few clicks and approval processes can be streamlined.
Integration with legacy systems
Insurance companies still rely heavily on legacy applications and systems for managing business operations. Automation can use existing user interfaces and gives a new lease of life to those systems by modernising access to its data layers. This means that the life of those systems is prolonged with no need to invest in changing them.
Automating manual processes eradicates the risks of human errors hence increasing the reliability and traceability of data.
Higher customer satisfaction
Insurers can speed up a wide range of data-rich processes with automation, from new business onboarding to policy cancellations. Automation can toggle through multiple systems and automatically move data, saving human effort and meeting customers' needs.
Automation is a great way to streamline business operations, increase productivity and save costs. Plus, companies can reallocate teams to higher priority work and drive business growth.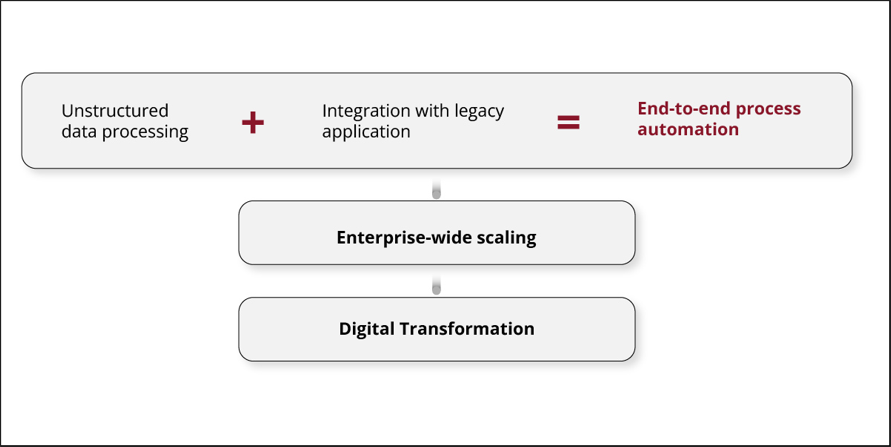 Use Cases of Automation in Insurance
There are several common insurance use cases where the implementation of automation can provide tangible results quickly and offer room to scale in the future.
Let's review some of these use cases and the intelligent solutions available.
Automation can streamline the entire claims journey from First Notice of Loss (FNOL) to adjustment and settlement. Implementing an automated claims processing workflow eliminates friction and cost by combining Robotic Process Automation (RPA),  machine learning, and human expertise to streamline and speed up claims-related operations.
Traditionally, underwriters need to analyse multiple data sources to determine risks and get clients the appropriate rates and policies for their needs. Automation can collect unstructured data from internal and external sources and present it on a central dashboard for faster decision-making, For example:
Health Risk – Premiums, will go up in cases where an applicant is a smoker, especially when weighed against their current age.
Creditworthiness – Credit rating of the applicant, as per external agencies such as Experian
Duplicate Policies – checking if the applicant already has the duplicate policy
The whole cycle of policy management operations can be streamlined with automation. Insurance brokers can create more engaging experiences with policyholders due to the issuance process time being reduced significantly and any updates such as address changes or bank details are done smoothly. This can be done with a mix of machine learning, natural language processing, intelligent OCR, RPA, and analytics.
Insurance companies have to comply with a significant number of regulations. One of many compliance-centered use cases is Name Screening Alert Review for Sanctions and PEP (politically exposed persons). PEPs and Sanctions checks are often discussed simultaneously as they are both required by Know Your Customer (KYC) laws. These checks allow you to see if a company has been sanctioned or if a politically exposed person is connected to the company.
Furthermore, screening systems generate thousands of alerts daily, and most of them are false positives. Automating their review drastically lowers the number of false positives a person must manually handle — reducing time and effort while increasing accuracy and auditability.
Insurance Process Automation and AMO
At AMO, our experts provide digital solutions tailored to our customers' needs. Our applications are designed so that both the business and the end-users have a streamlined and easy-to-navigate experience. We have built several bespoke applications such as Claims Payment Management and Risk Catastrophy Modelling solutions to help our customers overcome challenges and roadblocks in the insurance industry.
The crux lies in bridging silos – both functional and technological – and creating a layer that sits on top of the legacy systems without replacing them.
If you are feeling the pressure of the challenges in your business and would like to know more about how our services can optimise your insurance processes,  get in touch today!