March 21, 2022
The New Face of Access Management Solution
Identity and Access Management (IAM) at the workplace is a comprehensive set of processes, policies, and tools that work together to make sure that the right people gain access to the right systems and data while keeping unauthorised access at bay.
This includes onboarding and identifying each identity, authenticating it with a trusted credential, authorizing access to resources, assigning responsibilities, tracking activities, offboarding, and managing other attributes associated with an individual user.
According to Gartner, "Access management solutions are mature, rich with features and offer a broadened scope that overlaps with many adjacent areas" Gartner further says, "The recent enforced movement to lockdowns and remote work trends has been driving AM acquisitions for tactical emergency response purposes, including securing remote access to employees, workforce and B2B collaboration, and customer portals"
There are five general domains within IAM:
Identification
Authentication
Authorization
Access governance
Accountability
When considering IAM, it's likely that technology such as two-factor authentication comes to mind. However, industries throughout the global economy are under constant threat of various cyberattacks, and the state of IAM continues to adapt and evolve to stay a few steps ahead of the latest cyber-attacks.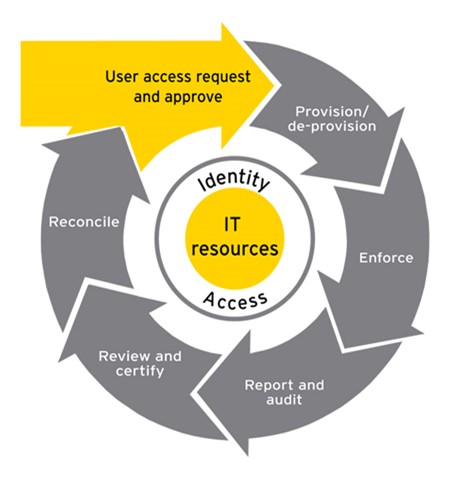 Challenges of IAM
Manual provisioning and deprovisioning Process
When a new employee starts at a company, IT often provides the employee with access to the corporate network, file servers, email accounts, and printers. Access to these applications is often granted separately by the specific application's administrator, rather than by a single person in IT. This makes it difficult for the organization to keep track of the access granted.
It's important to understand who has access to applications and data, where they are accessing it, and what they are doing with it. A lack of visibility results in high risk of security breaches.
Siloed user directories for each application
Most enterprises have made a significant investment in a corporate directory (such as Microsoft Active Directory) to manage access to on-premises network resources. As organisations adopt cloud-based services, they need to leverage that investment and extend it to the cloud, rather than create a parallel directory and access management infrastructure.
Keeping application integrations up to date
Truly centralising single sign-on and user management requires building integrations with numerous applications and keeping track of the maintenance requirements for new versions of each application. For the vast majority of organisations, having their IT department maintain its own collection of "connectors" across that constantly changing landscape, is unrealistic and inefficient.
Solutions
To overcome these challenges a strong IAM solution should not only enable IT to automatically add new applications, but it should also provide:
Automated user deprovisioning across all applications
The IAM solution comes with automatic deprovisioning of the access across all systems which makes it more secure and less vulnerable to a breach.
Deep integration with all user stores including Active Directory and LDAP
The IAM solution provides deep integration between the AD and LDAP along with other applications which help to monitor security breaches and accesses.
Audit and reporting are important aspects of an organization and so is having a clear audit trail. The IAM solution helps keep track of all the data and accesses by integrating all the silos systems and reducing human intervention to a minimum.
The Access Management solution identifies directory services, single sign-on, strong multi-factor authentication, automated provisioning, automated workflows, and built-in reporting.
It can be used to manage access across all of your applications, providing critical benefits for users, administrators, and executives.
At AMO, we create bespoke Access Management digital solutions tailored to your needs. If you want to know more about our services and how we can streamline your access management processes, get in touch today!