Established in 1900 as a family-run grain trading company, our customer today is a leading global player in the Agri-Foods sector. Its services span the entire breadth of the grain supply chain – from grain and flour production and development of enzymes to manufacturing grain-based produce. The organization is one of the world's top malt producers in Europe, Asia, and South America, as well as one of the top European wheat millers.
Size: 5001 – 10000 employees
Geographical Reach: Global
Annual Turnover: 4.6 Billion Euros
Requirements Overview
Given the scale of its operations, our customer has an extensive ecosystem of partners – suppliers, customers, and contractors – that they work with daily. It was vital for the group to be able to capture and manage the financial and logistical details of each partner (payment dates, payments methods and currency, credit limits, delivery methods, locations, and periods)
The Challenge
The recent pandemic has affected every part of the value chain, from raw commodities sourcing to end customers. Businesses are seeking to define strategies that build resilience and boost domestic capabilities, thereby becoming less reliant on regional and global supply chains. They are looking to re-design alternative supply chain flows and inventory storage capabilities closer to their customers.
Onboarding and managing partners are therefore an intrinsic process where organisations can build diversity and resilience within the supply chain by easily capturing accurate partner data that is aligned to their global standards and local policies.
Faced with a lack of consistency and control with onboarding new partners, our client was seeking a custom application incorporating smart automation to capture the accurate level of information. The management of partner details for this vast ecosystem primarily originating from SAP and Salesforce was considered onerous and time-consuming, often missing, or duplicating key partner information.
Furthermore, the group owns dozens of subsidiaries, and iterations in partner details in one subsidiary were not reflected across all the entities. Each of these subsidiaries had different systems to create or modify partners or even had different contract agreements with the same partners. These led to a duplication of data and increased costs which consequently impacted supply chain management, invoicing, and logistics. There was an imperative need to realign all key partner details across the group.
To resolve these challenges, the business was seeking an intuitive, easy-to-use application to streamline the onboarding of customers and suppliers, rationalizing data management across group subsidiaries and across borders
The Key Requirements
Given the scale of the application to be built, one of the priorities of the company was to realise its investment and utilise new tools as quickly as possible. Hence the need for a development roadmap with key milestones and clear deployment stages. Moreover, they wanted an underlying solution architecture that provided the ability to easily evolve the application without lengthy and complex development and, if necessary, by the in-house team.
Intuitive application design
An important requirement of the application was centered on reducing the time to capture information for partner entities, minimising complexity, and reducing the number of clicks to input and access fields. It should ensure intelligence was built in with data validation capabilities and shortcodes to pre-populate fields. All the aspects and views had to be achieved in a way that would allow complete and easy visibility of partner information through a single view.
Our client's application administration team required the ability to customise key functions of the application from email templates to global admin parameters such as URLs on external services. Through a role-based interface, information would be presented to the right users based on the relevance of data and roles.
Audit & Tracking visibility and history
There was a need for dashboard style visibility for all edits and capturing a complete trail of who has created, approved, and modified partner details.
Integration with SAP and Salesforce
The underlying new platform would need to operate as the 'single source of truth' to deduplicate, validate and disseminate information across SAP and Salesforce. This allows for partner entities to be processed in the application directly while maintaining up-to-date information within SAP for financial management. As well as deduplication and validation of data the application would re-inject the right dataset into Salesforce and SAP systems providing a two-way integration.
The Solution Approach
AMO Consultancy's services were requested by our client to intervene and complement the internal teams to provide expertise in the design and creation of the Partners Management Portal – a centralised web-based solution to capture and manage all partner entities across various systems. AMO brought in its technical expertise, its savoir-faire around business analysis and advisory services to restructure the development approach and start delivering in a much more organised fashion. Our team designed a development roadmap to release functionalities in a staged deployment to users across 3 phases, evolving the functionalities and extending the application's reach to multiple user groups and countries.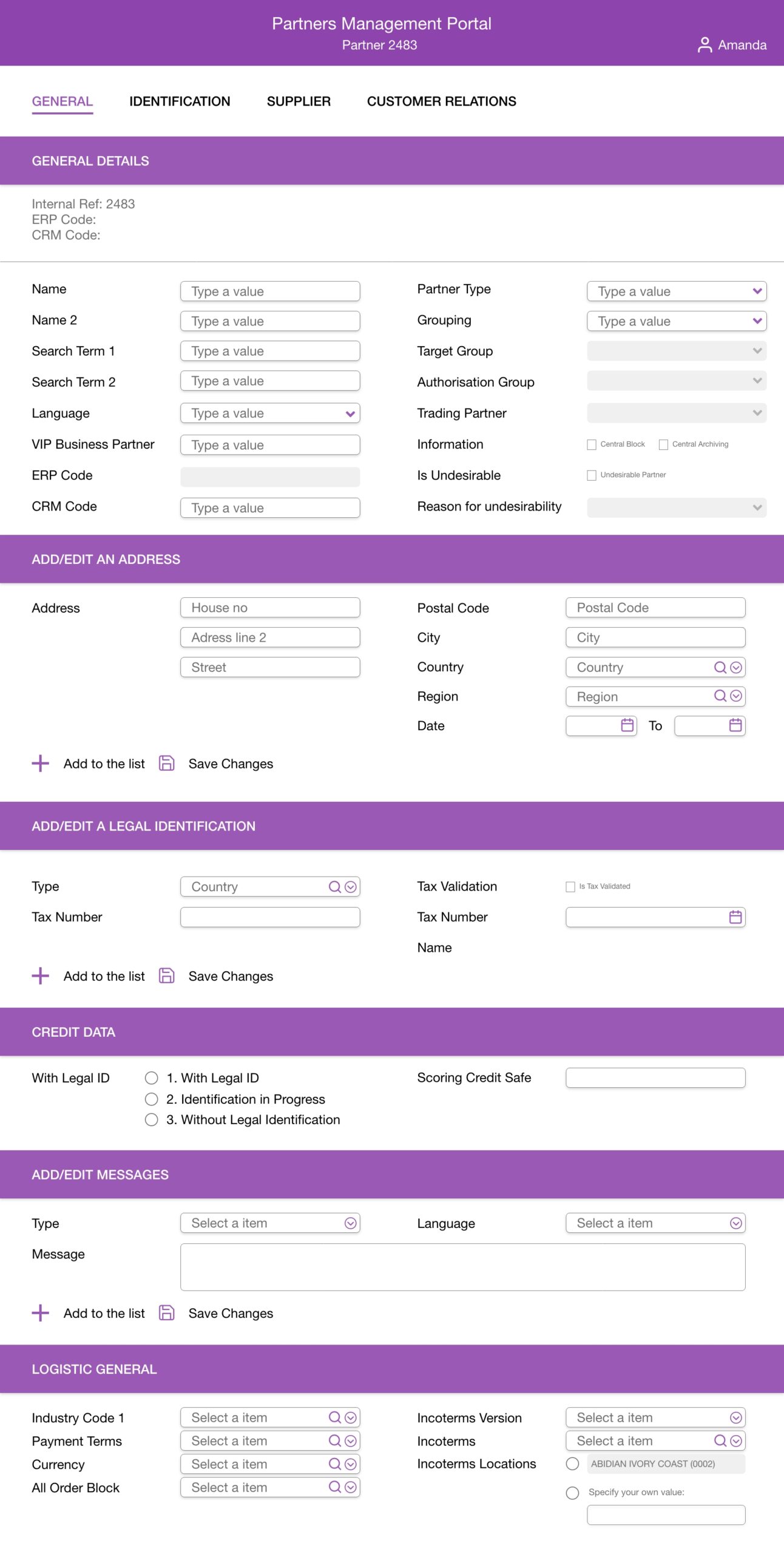 The Solution – Platform
AMO rebuilt the solution leveraging the Nintex K2 business process management (BPM) platform incorporating a drag and drop low code capability to software development that optimizes the entire process to accelerate application delivery.
Our iterative and agile methodology ensured a collaborative planning approach for the deliverables with the ability to easily adjust to any changes in requirements from our customer.
The capabilities of the Nintex K2 platform merged with the AMO best development practices have enabled them to realise the potential of an easy-to-use application, with an intuitive interface. The solution was able to meet their immediate regional requirements with the ability to scale the platform across multiple global regions, as and when required by the business.
Additionally, through AMO's application design methodology, the application could cater for future requirements with ease, flexibility, and the ability to adapt to changing business or regulatory needs. The underlying K2 platform was integrated with SAP and Salesforce and operates as the 'single source of truth' to validate and disseminate information across. This allows for partner entities to be processed in the application directly while maintaining up-to-date information within SAP for financial management.
Benefits to our Customer
Centralised platform with standard and accurate information across entities.
Standardised process with local regulatory policy requirements built into the application without the end user requiring any training or awareness of what global standards are whilst ensuring compliance with enterprise standards and policies.
Eradication of errors & data capture
Using K2 as the 'single source of truth' and integrating with SAP and Salesforce removed any duplication of data and inaccuracies in partners' logistic and operations details. The application captures the dataset correctly and in the proper format hence providing the foundation for the effective functioning of operations, logistics, and finance
Every user action is tracked and recorded creating historical records and enabling a streamlined audit and compliance management system.
Slick and easy-to-navigate experience
An easy-to-use intuitive interface enhances user adoption and meant that the employees spend less time trying to efficiently onboard partners. A task that was previously overly complicated.
With the easy-to-use portal and intuitive interface, the users were creating and modifying partners efficiently hence increasing productivity and lowering operation costs.
To summarise
With the structured and phased approach that AMO adopts we have released functionalities based on our client's requirements. The Partner Management Solution has enabled our customers to capture the correct dataset and in the correct format providing a good foundation for the effective functioning of operations, logistics, and finance. This large-scale pilot is already referencing 10,000 partners for the sole french region. It is now being rolled out internationally due to its flexible and scalable core structure.